Aeroponic Towers – How Does It Work?
100% Beyond Organic • 95% Water & Space Savings • 100% Eco-Friendly • 100% Pesticide-Free
True Garden is dedicated to grow vegetables, fruits, herbs and flowers using Tower Garden® patented aeroponic technology.
Our aeroponic towers average 95% water-savings in comparison to conventional farming. Such technology also delivers a better crop yield, aside from producing plants featuring a higher nutrient content.
Vertical aeroponic farming also means 75% to 90% less space required depending on the configuration and nature of the project.
From commercial farms to private backyards, from rooftops to school grounds, and from inside buildings with grow-lights to restaurants patios, Tower Garden® patented aeroponic technology is versatile and customizable.
Tower Garden® aeroponic technology is a patented versatile food production system which can be easily customized for a wide array of business and residential applications.
To start with, seeds are being placed inside a small natural rock-fiber cube for a soilless germination process. When seedlings are ready, we tuck them inside the grow-cavities of the tower, thus allowing the roots of the plants to grow inside the tower.
Tower Garden® is modular in size and can accommodate 52 plants per tower.
The reservoir at the base holds 20 gallons (75.7 L) of water, which we mix with our soluble "Aeroponic Power-Gro®" ionic mineral nutrient solution.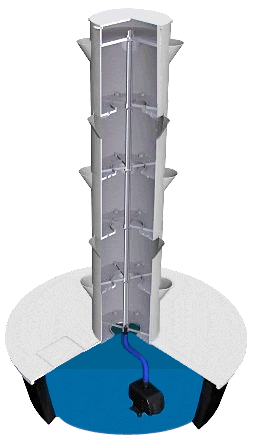 A low wattage submersible pump is placed inside the reservoir 'to blast' the nutrient solution through the center of the growing pots, all the way to the top of the tower.
When the nutrient solution reaches the top, it is then funnelled through a special device which makes it drizzle evenly on its 'cascading journey' back down to the bottom reservoir. As the liquid mixture is being showered down to feed the roots of the plants, our proprietary mineral solution gets oxygenated through gravity, thus creating unprecedented favorable conditions for nutrient absorption. Aside from using up to 95% less water than other conventional growing methods, vertical farming is space efficient as it can welcome between 250,000 to 500,000 plants per hectare!
Manufactured with sustainability & durability in mind
Tower Garden® towers are manufactured using the highest grade of food-compliant plastic. Our towers are built to last: the plastic is several times thicker than most of any hydroponic equipment ever built! Aside from being durable, and in an effort to naturally hinder algae growth, our towers are fully opaque in order to block-out sunlight. Furthermore, our towers are 100% UV-stabilized for outdoor use.
The Secret is in the sauce!
In the world of hydroponic farming, aside from sunlight, weather conditions and the quality of the water, everything relies on the excellence of the nutrients used to feed the plants.
We use a Tower Garden® proprietary nutrient ionic mineral solution by the name of 'Aeroponic Power-Gro®'.
Aeroponic Power-Gro® is the most unique mineral-based nutrient solution ever formulated. In fact, contrary to conventional hydroponic farming where a different nutrient mixture is needed for each crop, Aeroponic Power-Gro® can be used for all vegetables, herbs, fruits and flowers which can be grown on Tower Garden® towers. From veteran farmers to novice gardeners, everyone appreciates the simplicity of producing food with Tower Garden® technology.
Aside from the purity of the minerals and the quality of the plant nutrients used to make Aeroponic Power-Gro®, its uniqueness lays in the fact that only one single nutrient solution is needed to grow all crops!
Aeroponic Power-Gro® has been specifically formulated to support Tower Garden® towers' highly oxygenated environment and to be used for the seedling process thus creating healthier plants.
As a result, we have a superior crop yield and what we grow ends up featuring a much higher nutrient content than what can be produced through conventional farming, and we prove it: we invite you to read the scientific comparative analysis featured right here.
Tower Farm quotations are in US dollars and do not include shipping.
Our rates are ex-works Memphis Tennessee USA.
Request a Tower Farm Quotations
SELECT TOWERS
Choose tower model & enter the amount in the 'quantity' field.
FILL OUT THE FORM
Enter the contact info requested.
Request Quotation
Press the 'send quotation to my email' button.
Check your email
You should have received a Tower Farm quotation in your inbox. If not, please check your junk mail folder.
The proposal/quotation that you will receive by email will include a fully automated irrigation and nutrient dosing system which supplies the water and the nutrients to each tower on an as-needed basis.
The proposal you will receive will also include a one year supply of nutrients.
Quotations/proposals are valid for 60 days.